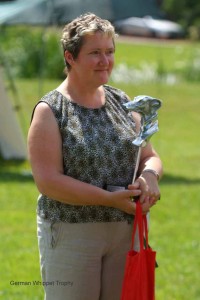 Wie lautet der Name Ihres Zwingers?
What`s the name of your kennel?
FALCONCRAG
Wann bekamen Sie Ihren ersten Hund/Whippet?
When did you get your first dog/whippet?
Kennel was established in 1953 by my Mother.I got my first Whippet in 1967
Seit wann züchten Sie Hunde/Whippets?
When did you start breeding dogs/whippets?
I was given an interest in the Kennel name in 1971.So could breed in my own name
Welche Rassen züchten Sie?
Which dogs have you bred?
Borzoi,Whippet,Greyound,Sloughi,Ibizan.Boston Terrier
Welcher Hund hat für Sie die größte Bedeutung? (Zucht, Ausstellung, sonstiges)
Is there a dog of particular importance for you? (breeding, showing, or anything else)
In my teenage years I was very impressed by the Dondelayo Champion bitches,Roulette and Dyanne and this type was What I aimed to breed.
My first Champion was also very important ! Ch.Another Rose of Glenbervie she was born in 1968 and I was 14 years old when I made her a Champion.More recently,Ch.Rum Punch of Falconcrag was to me a classic,tight pedigree and whatever he looked like I knew his pedigree was important.I went to buy a bitch but there were no fawns in the litter,only Rum Punch,so we brought him home.I am very proud he produced so many lovely children and grandchildren who have been so successful.He of course gave me my last Whippet,who was my most successful,UK,Int.Neth & Lux.Ch.Becscott Standard Lady of Falconcrag,who was a daughter of Rum Punch and Falconcrag Victoriana. Standard Lady in my eye epitomised the 'English Whippet' ,she was fun to show never letting me down,won 15CCs and won Groups in the UK,Netherlands and Germany.She was my once in a lifetime Whippet.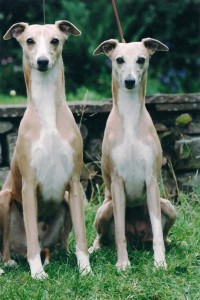 Foto: P. Marston-Pollock Rum Punch of Falconcrag and Standard Lady of Falconcrag
Wann bekamen Sie die Freigabe zur Richtertätigkeit?
When did you get your judging-licence?
I first judged at Open shows in 1974 and gave CCs for the first time in Borzois in 1979,being the youngest judge to do the breed, Whippets followed in 1982
Welche Rassen beurteilen Sie?
Which breeds have you judged?
At Ch.shows I judge Borzoi,Whippet,Otterhound,Pharaoh,Ibizan,Beagle,Basenji,W/H Dachshund,Deerhound,Greyhound.GBGV,Afghan.
Wo waren Sie bereits als Richter tätig?
Where have you already judged dogs?
At Crufts I have judged Borzoi,Whippet,Otterhound. Norway,Sweden,Finland,Netherlands,Germany,Russia,South Africa.
Gibt es eine Ausstellung die für Sie eine ganz besondere Bedeutung hat?
Is there any show of particular importance for you?
Crufts is always special whether as a judge or an exhibitor,there is no other show like it.
Wie kamen Sie zum Whippet?
How did you get in touch/fell in love with whippets?
My Mother bought me a Whippet because I was too small to show the Borzois !!
Was sind aus Ihrer Sicht, die größten Stärken, die die Whippets momentan haben?
What do you think, are the specific qualities of the breed (Whippet) at present?
That the breed has progressed by the forward thinking of many breeders worldwide.I see some breeds struggle to cope with the introduction of new blood from imports etc. but I really have seen that the Whippet as a breed has moved on as a result of this breeding and although types have changed,there are some very beautiful specimens to be seen and it is the responsibility of judges to recognise this achievement.
Wie sieht für Sie der ideale Whippet aus?
How do you wish "the perfect Whippet" to look like?
There is no such thing as the perfect Whippet and as individuals we all see different qualities.Foremost for me is breed type – there is a fine line sometimes between many of our sight hound breeds and it can be easy to slip one way or another. As breeders we put our own stamp or type within the breed which makes it recognisable as ours, call it our trademark,but it always must be a Whippet and when the size goes up and bone gets stronger and the way the head is set on the neck changes,it very soon no longer becomes typical.To recognise breed type you must also know breed type of other similar breeds to recognise when it is time to reconsider.
In the UK at the moment it is very much 'fit for function' so a Whippet must be balanced and constructed in a way that it would be able to run in an economic way as quickly as possible but still have the strength and condition to do its work.
As you run your hand over a Whippet on the table you almost know how it will
Move,but sometimes there are surprises.Sound movement is not just about profile movement but what all of the body does,it tells you a lot.
As I said nothing is perfect, but we have been very fortunate to have had so many beautiful Whippets to admire,own and love over the years.Lets hope we enjoy them for many years to come.