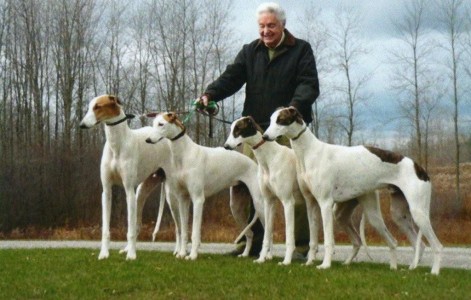 Der folgende Text wurde uns freundlicherweise von Max Magder zur Verfügung gestellt:
Max Magder has been active as a breeder/exhibitor of pure bred dogs for close to 40 years. In addition to owning a great number of different breeds, he has bred and shown Greyhounds and Whippets to top wins in Canada and the United States.

A whippet of his breeding, Can., Am. and Br. Ch. Lorricbrook Winning Streak set a record of best in shows for the breed in Brazil, and a Whippet of his breeding won the Hond Group at the Windsor Championship Show in England. The dogs`s name was Can., Am., Eng., Dutch, German and Int. Ch. Lorricbrook Runaway, who at that time was the only Whippet from North America to win an English title. "Pip" later went on to win Best of Breed and place second in the Hound group at the World Dog Show in 1992. He has also been the owner and breeder of many of Canada`s top winning Whippets – Can. & Am. Ch. Dondelayo Buccaneer, Can. & Am Ch. Lorricbrook Spellbinder, Can. & Am. Ch. Lorricbrook NV Us to name just a few.

As well, he is the breeder of top winning Greyhounds. In the early nineties, Can., Am. & Ber. Ch. Lorricbrook Sporting Chance was the top winning greyhound in Canada. In 1998, Can. & Am. Ch. My Christmas Rider was purchased from Slovenia and became the top winning greyhound of all time in Canada with 39 Best in Shows.

Judging since 1978 and now an all breed judge, he annually has a busy schedule in Canada and the United States and his judging experience abroad has led him to adjudicate dogs around the world. He has judged Whippets three times in England, including the prestigious Hound Show, and has judged at Skokloster in Sweden as well.

In 2004 he was presented with a Lifetime Achievement Award by the Professional Handlers Association of Canada in recognition of his many years of service and dedication to the sport of dogs.

In April 2006 he was invited to join a panel of judges to judge the Top Twenty whippets in the United states at the American Whippet Club National Specialty in Boston.
Auf die Fragen
Was sind aus Ihrer Sicht, die größten Stärken, die die Whippets momentan haben?
What do you think, are the specific qualities of the breed (Whippet) at present?
Wie sieht für Sie der ideale Whippet aus?
How do you wish "the perfect Whippet" to look like?
antwortete er:
What I think about the quality of whippets today is that they have improved greatly over the past 10 years. I think the questions about what I think the perfect whippet should look like, it should be, what the standard calls for and looking at many pictures of some of the top winning dogs around the world. As a student of dogs in general, I have devoted many years breeding whippets succesfully that have influenced the breed in many countries around the world. Although dogs have not been my whole life. They certainly have made my life whole. Thank you for asking me to write this article and I hope people who read it, will find it interesting to learn a little bit more about me.